Meh... I love my family, I really do... but I want to go home and stay on the computer as long as I want to!! Two more days to go back home and be able to join chatzy (without having to wait for my family to go to bed... it doesn't look like they will be doing it any time soon).
On a side-note, today was an awesome day! I went to see an amazing piece of art that really few people had the opportunity to watch till just recently: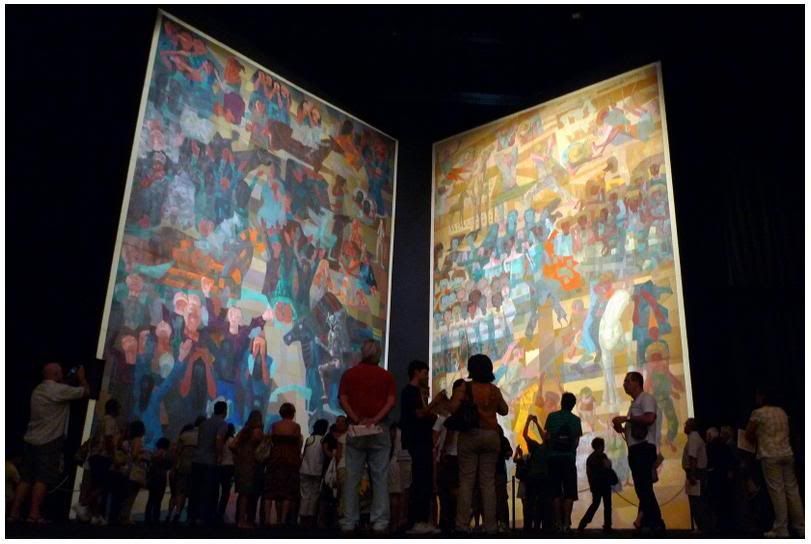 Click image for larger version
"Between 1952 and 1956, Candido Portinari made two last and largest mural, War and Peace (14m high by 10m wide approx.) commissioned by the Brazilian government to give to the UN headquarters in New York.

Located in a prime location with restricted access to United Nations delegates in the hall of the General Assembly, the monumental panels can not be seen by the public for safety reasons, even during the guided visits of the UN.

For this reason, the Portinari Project always dreamed of War and Peace expose the general public. Right now, planning a major reform of the UN headquarters between 2010 and 2013 provided an unprecedented opportunity to expose the panels War and Peace in Brazil and abroad.

From January to May 2011, War and Peace will be restored in the Palace Capanema studio open to the public, with the completion of an education program to attend the schools. Then a long national and international roaming is planned until the return of the panels to the UN in 2013, including the cities of São Paulo (Oca), Paris (Grand Palais), Hiroshima (Peace Museum), Geneva (CERN) , Oslo (City Hall - Nobel Peace Prize), Rio de Janeiro (ICOM) and New York (MOMA)."
Original source of text and picture:
Servuloh's Flickr
(because I'm too lazy to upload my pictures and write it all myself tonight) =P
Current Mood:
cheerful